Feature Articles


For more information about this article or gallery, please call the gallery phone number listed in the last line of the article, "For more info..."
September Issue 2010

University of South Carolina in Columbia, SC, Features Drawing Invitational
The University of South Carolina in Columbia, SC, will present the exhibit, DELINEATE: Drawing Invitational, featuring works by Anila Agha, Barb Bondy, Melissa Cooke, Laura Ferguson, Sanda Iliescu, Heidi Jensen, Clive King, Zach Mory, Julie Püttgen, Carla Rokes, Elin O'Hara Slavick, Pamela Phatsimo Sunstrum, Barbara Campbell Thomas, and Jason Watson. The exhibit will be on view in the McMaster Gallery from Sept. 6 through Oct. 20, 2010.
This invitational drawing exhibition explores works from informal sketches to precise elegant images. These works explore numerous techniques that include monotype, ink, graphite, pastel, watercolor and collage. The subject matter in these works also ranges widely, from photo-realistic creations to conceptual imagery. As with much of contemporary art these works provide viewers with new ideas and points of view in drawing.
Anila Agha was born and raised in Lahore, Pakistan, where she completed her BFA in Textile Arts in 1991. Having relocated to Dallas, TX, in 2000 she attended the University of North Texas and completed her MFA in Fiber Arts in 2004. Agha has an extensive exhibition record here in the USA and has won numerous awards for her artwork, such as the Fort Worth Dealers Association Award, for her participation in Art in the Metroplex. Agha was an Artist in Resident at the Center for Contemporary Craft, Houston, TX and taught for three years at the college/university level in Houston, TX. Currently she is the Assistant professor of Drawing at The Herron School of Art and Design, IUPUI, Indianapolis, IN.
Barb Bondy earned a Master of Fine Art in 2-D at Southern Illinois University Carbondale, a BFA in Visual Art (Honours) at the University of Windsor, Ontario, Canada and an Ontario College Diploma in Photography from Sheridan College, Ontario. Her interest in cognition, neuroscience and physics inform Bondy's artistic practice which is directed primarily toward exploring through the mediums of drawing and photography questions about the nature of the mind and brain. She exhibits her artwork throughout the U.S. and Canada and was awarded an Alabama State Council on the Arts Fellowship grant in 2007. Bondy is Associate Professor of Art in the College of Liberal Arts at Auburn University and was appointed as the Daniel F. Breeden Scholar for the Humanities at The Caroline Marshall Draughon Center for the Arts and Humanities (2009-2010). Since 2005, Bondy has been teaching drawing classes for the Alabama Prison Art & Education Project.
Melissa Cooke was born in Oconomowoc, WI, in 1982. While studying drawing, printmaking and art history at the University of Wisconsin-Madison, she received her Master's of Art in 2008. Cooke is represented by Koplin Del Rio, in Los Angeles, CA. Her work has been shown in such exhibits as "PULSE Contemporary Art Fair" in New York, the "LA Art Show" in Los Angeles, CA, "On Paper" at the Jenkins Johnson Gallery in New York, and "West Coast Drawings VIII" at the Davidson Galleries in Seattle, WA. Cooke's first major solo show "You Know Me Better Than I Know Myself" was exhibited at Koplin Del Rio in March-April 2010. Cooke's drawings are featured and owned by collections such as the Arkansas Museum of Art, the Howard Tullman Collection, the Wisconsin Union Permanent Art Collection, the Boston Public Library Print Collection, and the Southern Graphics Council Print Collection.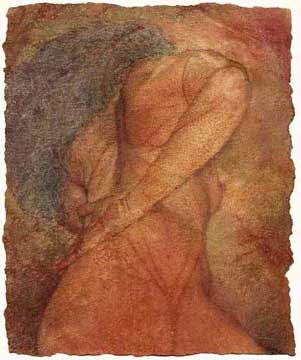 Laura Ferguson
Laura Ferguson's drawings, prints, and artist's books have been widely exhibited in galleries and museums in New York and around the country, including the Museum of Science in Boston, the National Museum of Health and Medicine in Washington, DC, and the Chicago Cultural Center. They are represented in the collections of the National Library of Medicine and the American Academy of Orthopaedic Surgeons. In 2008 Ferguson became Artist in Residence at the NYU School of Medicine, where she teaches anatomy drawing to medical students and uses the 3D Imaging Lab and the Anatomy Lab as sources for the anatomical imagery in her own art. "My work is all about the body. I use drawing to convey the body's visceral physicality, its uniqueness and visual complexity, and its connection to the processes and patterns of nature. The interactions of flesh and bone intrigue me: even bones are alive, dynamic and juicy in their own way," says Ferguson.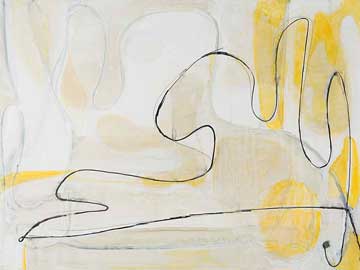 Sanda Iliescu
Sanda Iliescu is a practicing artist and associate professor of art and architecture at the University of Virginia, where she teaches painting, drawing, and design studios. Her work is represented by Vagabond Gallery in New York and Les Yeux du Monde in Charlottesville, Virginia.
Heidi Jensen is currently an Associate Professor of Art at Ball State University in Indiana. Her current work explores modes of drawing and probes issues regarding biology, identity and function. Drawn forms, which have potential origins in man-made or natural worlds, are rendered descriptively for the inspection of the viewer. Jensen has exhibited throughout the United States. Recent exhibitions include "Drawing Discourse" at the S. Tucker Cooke Gallery at the University of North Carolina Asheville, "Creatures Great and Small" at the Clara Eagle Gallery at Murray State University in Kentucky. She is a fellow of several residency programs, including La Napoule Foundation in France, the Virginia Center for the Creative Arts and the Ragdale Foundation in Illinois.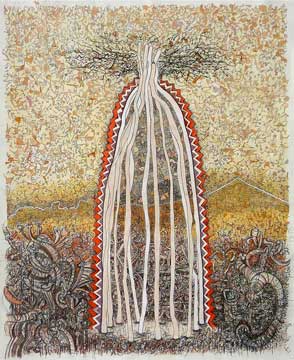 Clive King
Clive King was born in 1944, in the Welsh village of Cwmgwrach (English translation is Valley of the Witches and a constant influence on my work). He studied art at Exeter College of Art (undergraduate) and Goldsmith's College, University of London (Postgraduate). His teaching in England has included Salisbury College of Art and Oxford Brookes University. In 1992, he came to the US as Chair of Art at Florida International University Miami Florida where he still works. King has been in 112 one-person exhibitions, including The Barbican Arts Center, London, Oxford Gallery, Frost Art Museum Miami and Jacksonville Museum of Modern Art and MOMA Wales and included in over 200 group shows. Selected open lectures include The Royal College of Art, Kansas City Art Institute, School of Visual Arts and Pratt Institute NY and the Weismann Museum of Art .Minneapolis.
Zach Mory hails from the small town of Cottage Grove, WI, a few miles southeast of Madison, WI. Having initially been trained as a life drawer, his work slowly turned towards the abstract and non-objective possibilities of drawing as his undergraduate schooling continued at the University of Wisconsin-Madison. In the spring of 2008, Mory received his master's of fine arts degree from UW-Madison with a concentration in drawing. Since his graduation he has taught various courses throughout the state of Wisconsin at UW-Madison, Carthage College, Lawrence University and Ripon College.
Julie Püttgen was born in Lausanne, Switzerland, and grew up in Fresno and Atlanta. She holds a Bachelor of Arts degree from Yale University and a Master of Fine Arts degree from Georgia State University. In the 1990s, she taught in Hong Kong, traveled around Asia, and then lived as a nun in Buddhist monasteries for three years. Püttgen has exhibited nationally in group and solo shows at museums and galleries including the Atlanta Contemporary Art Center, the Yale School of Art Gallery, Space 301 in Mobile, and Ruby Green in Nashville. From 2004 to 2007, she edited, designed, and published "Ratsalad DeLuxe", an online arts journal. Püttgen teaches drawing, painting, book arts, and interdisciplinary seminars at Sewanee: The University of the South.
Carla Rokes is a native of the Carolinas. She received her BFA from the University of North Carolina at Charlotte and her MFA from Pratt Institute in New York. Rokes has been teaching studio art at UNCP since 2003. Her areas of concentration are Drawing and Design.
Elin O'Hara Slavick is a Distinguished Professor of Art at the University of North Carolina at Chapel Hill where she teaches studio art, theory and practice. She received her MFA in Photography from the School of the Art Institute of Chicago and her BA in poetry, photography and art history from Sarah Lawrence College. Slavick has exhibited her work in Hong Kong, Canada, France, Italy, Spain, Scotland, England, Cuba, the Netherlands and across the United States. Upcoming solo shows of "Hiroshima: After Aftermath" are scheduled for Chapel Hill, North Carolina; Lawrence, Massachusetts and Hiroshima, Japan. She is the author of "Bomb After Bomb: A Violent Cartography," (Charta, 2007), with a foreword by Howard Zinn.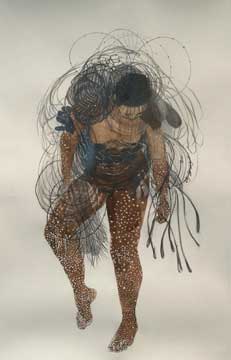 Pamela Phatsimo Sunstrum
Pamela Phatsimo Sunstrum was born in Mochudi, Botswana and grew up living in different parts of Africa and southeast Asia. She came to the United States in 1998 and received a BA with Highest Honors in International Studies with a concentration in Trans-national Cultures from the University of North Carolina at Chapel Hill. Sunstrum received her MFA from the Mt Royal School of Art at the Maryland Institute College of Art. She lives with her husband, a 2nd Grade teacher, in Baltimore, MD, and is an artist in residence at the Baltimore Creative Alliance. She currently teaches at the Maryland Institute College of Art. Sunstrum has exhibited her work nationally and internationally and was featured by Marcia Wood Gallery at the 2008 PULSE Miami Art Fair. She was included in the 2008 exhibition, "Cinema Remixed and Reloaded: Black Women Artists and the Moving Image since 1970" at Spelman College Museum of Fine Art, Atlanta and the Contemporary Arts Museum, Houston, TX. The upcoming exhibition "see you again" will be Sunstrum's first solo exhibition at Marcia Wood Gallery.
Barbara Campbell Thomas is an artist whose work worries the boundaries between painting, drawing and collage. Her work has been exhibited nationally, in such venues as the A.I.R. Gallery in Brooklyn, NY, the Atlanta Center for Contemporary Art, the Urban Institute of Contemporary Art in Grand Rapids, MI, and 1708 Gallery in Richmond, VA. Additionally, Campbell Thomas's work has been favorably reviewed in "Art Papers" as well as The International Exchange for Poetic Invention. She received her MFA from the University of California, Berkeley in 2000 and her BFA from the Pennsylvania State University in 1998. She has twice been an artist-in-residence at the Hambidge Center in Rabun Gap, GA, as well as at the Skowhegan School for Painting and Sculpture in Skowhegan, Maine. Additionally, she attended the Yale Summer School of Music and Art in Norfolk, Connecticut.
Jason Watson is a mixed-media artist, specializing in figure drawing, working with found objects, and various printmaking processes. He currently teaches drawing at Appalachian State University in Boone, NC. Watson's work shows at museums, universities, and non-profit spaces, including his solo exhibit, "Jason Watson: A Second Look", at the Jersey City Museum in 2007 ­ 2008. He has participated in many artist residency programs, including the Newark Museum of Art, Cooper Union, the Lower East Side Printshop, and the Elsewhere Artist Collaborative in Greensboro, NC. Watson has also worked as an exhibitions designer for the Wildlife Conservation Society in New York and has served on fellowship committees for the New York Foundation for the Arts. In his current work, he develops mixed media drawings that investigate the "notional" encounters of observed experience: combining objects, figures, patterns, and images that tend toward narrative suggestion.
For further information check our SC Institutional Gallery listings, contact Mana Hewitt, Gallery Director at 803/777-7480 or e-mail at (mana@sc.edu).


[ | September 2010 | Feature Articles | Carolina Arts Unleashed | Gallery Listings | Home | ]
Carolina Arts is published monthly by Shoestring Publishing Company, a subsidiary of PSMG, Inc. Copyright© 2010 by PSMG, Inc., which published Charleston Arts from July 1987 - Dec. 1994 and South Carolina Arts from Jan. 1995 - Dec. 1996. It also publishes Carolina Arts Online, Copyright© 2010 by PSMG, Inc. All rights reserved by PSMG, Inc. or by the authors of articles. Reproduction or use without written permission is strictly prohibited. Carolina Arts is available throughout North & South Carolina.