Feature Articles


For more information about this article or gallery, please call the gallery phone number listed in the last line of the article, "For more info..."
September Issue 2010

Vista Studios in Columbia, SC, Offers an Exhibition of Clay Sculptures
Vista Studios in Columbia, SC, will present the exhibit, Clay Works 2010, featuring clay sculptures by Sandra Carr, Rita Ruth Cockrell, and Richard Lund, on view in Gallery 80808 from Sept. 16 - 21, 2010.
The Carolinas have a long history and tradition of artists who work with clay. This exhibition features works by three contemporary artists who live and work in South Carolina.

Each of the artists use clay as a sculpting medium. Rather than make functional pieces, they use clay as a medium for personal expression. Each has a distinctive style. They create sculptures with conceptual meaning, taking the viewer past the decorative to a more emotional experience.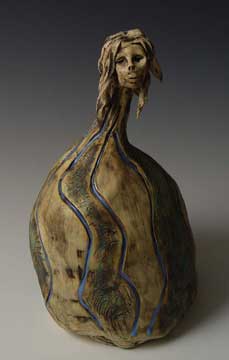 Sandra Carr
Sandra Carr has the following to say about her work, "Clay represents healing for me as an artist. It has been forgiving, stable and has the capacity to change when altered by outside influences - all characteristics I admire and strive for. Sculpting figurative pieces allows me to tell a story in my work or communicate a feeling. It speaks for me when I choose not to."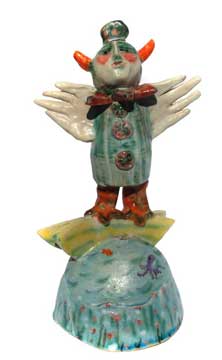 Rita Ruth Cockrell
Rita Ruth Cockrell offered this statement, "Born and raised in South Carolina, I love this place, every road side weed, every red clay road, leopard clay bank, shadow of white sand. After traumatic events with myself, my mother and authorities, I began working in any medium that came my way, always going toward the inside to go outside. Believing that if I can be good enough, some aspect of truth or beauty would help me understand that even if I can't get there, the glimmering of the source comforts me".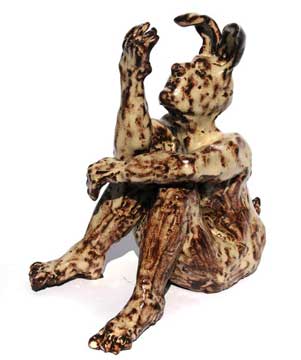 Richard Lund
Richard Lund has this to say, "I moved to Columbia South Carolina two and a half years ago. Shortly after I arrived I joined the City of Columbia Arts Center studio which began my working with clay. I have been an artist many years creating paintings, photographs and sculptures but clay was a new exciting medium for me. Sculpting in clay offers me a seductive tactile experience that other mediums can not give. As I mold, move and pinch the clay with my hands it allows me to easily release my ever changing imagination and ideas realizing them in three dimensions.
For further information check our SC Commercial Gallery listings, call the Studios at 803/252-6134 or visit (www.gallery80808vistastudios.com).


[ | September 2010 | Feature Articles | Carolina Arts Unleashed | Gallery Listings | Home | ]
Carolina Arts is published monthly by Shoestring Publishing Company, a subsidiary of PSMG, Inc. Copyright© 2010 by PSMG, Inc., which published Charleston Arts from July 1987 - Dec. 1994 and South Carolina Arts from Jan. 1995 - Dec. 1996. It also publishes Carolina Arts Online, Copyright© 2010 by PSMG, Inc. All rights reserved by PSMG, Inc. or by the authors of articles. Reproduction or use without written permission is strictly prohibited. Carolina Arts is available throughout North & South Carolina.