Feature Articles


For more information about this article or gallery, please call the gallery phone number listed in the last line of the article, "For more info..."
September Issue 2010

Woolworth Walk in Asheville, NC, Features Works by Julie Armbruster and Alli Good
Woolworth Walk in Asheville, NC, will present the exhibit, Moral Universe, featuring paintings by Julie Armbruster and Alli Good, on view in the FW Gallery from Sept. 1 - 29, 2010.

Prepare yourself for sweater vests, saddles, hybrid creatures and the ubiquitous blonde women inhabiting the imaginations of painters Alli Good and Julie Armbruster. The Asheville duo have teamed up again to bring you the Moral Universe.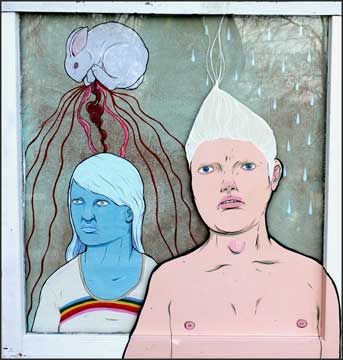 Alli Good
Alli Good is a self-taught painter who delves deep into the recesses of her memories and observations to create narratives about relationships, unrequited feelings, and distorted insecurities. Her canvas environments are done with painstaking detail and the colors and subject matter push and pull the viewer between the lushness of the renderings and the severity of the emotional drama they depict.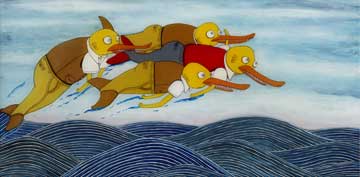 Julie Armbruster
Julie Armbruster's creative vision often portrays the unbalanced relationship between humans and other animals. Painted on wood panel and surfaced with a glistening resin shield, Armbruster's characters inhabit a strange world shaded with paranoia, loneliness, humor, and hope. Her subjects are often captured at a critical moment where they have made sense of the options they have left.
Both artists use narrative, brightly colored, illustrative renderings to relate their objectives and have been able to work together on a variety of collaborative projects. For this exhibit Good and Armbruster will include a collaborative element, giving the viewers permission to come up with stories and morals they find in the exhibited work. Those seeking to interact with the artists are encouraged to leave their ideas in a suggestion box. The best contributor will be honored with an original drawing from both artists.
For further information check our NC Commercial Gallery listings or call the gallery at 828/254-9234.

[ | September 2010 | Feature Articles | Carolina Arts Unleashed | Gallery Listings | Home | ]
Carolina Arts is published monthly by Shoestring Publishing Company, a subsidiary of PSMG, Inc. Copyright© 2010 by PSMG, Inc., which published Charleston Arts from July 1987 - Dec. 1994 and South Carolina Arts from Jan. 1995 - Dec. 1996. It also publishes Carolina Arts Online, Copyright© 2010 by PSMG, Inc. All rights reserved by PSMG, Inc. or by the authors of articles. Reproduction or use without written permission is strictly prohibited. Carolina Arts is available throughout North & South Carolina.